Build Your Firm's Brand with the Best Vanity Numbers in the Legal Industry!
---
It's clear that phone calls are extremely important to grow your business, and it's time you put thought into how to improve call volume.
It starts with having the right phone number. You are not an average lawyer building an average practice, so why settle for an average, generic number doled out by your phone carrier?
A custom phone number – whether toll-free or local, vanity or easy-dial – can help you stand out and connect more effectively with your target audience.
Call 1-800-207-2000 — 7 days for a free search and ideas
---
Easy phone numbers save advertising costs and deliver more new clients
800NumbersForLawyers.com is a BBB A+ rated company dedicated to helping Attorneys obtain numbers that get more calls – more clients and less costs in advertising. They help brand you as a legal expert. At your option, most of our 800 numbers for lawyers work in the entire USA not just your local area code. Now people in your area with out of state cell phones can reach you.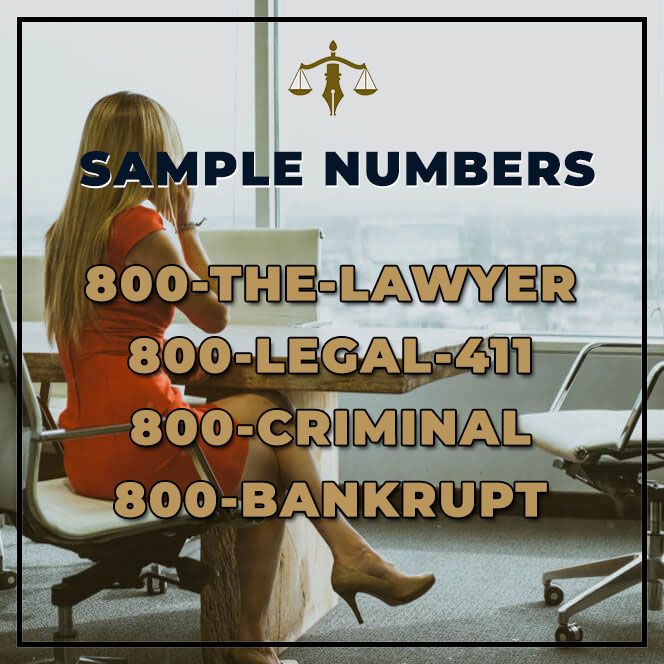 Easy Vanity Numbers
General Practice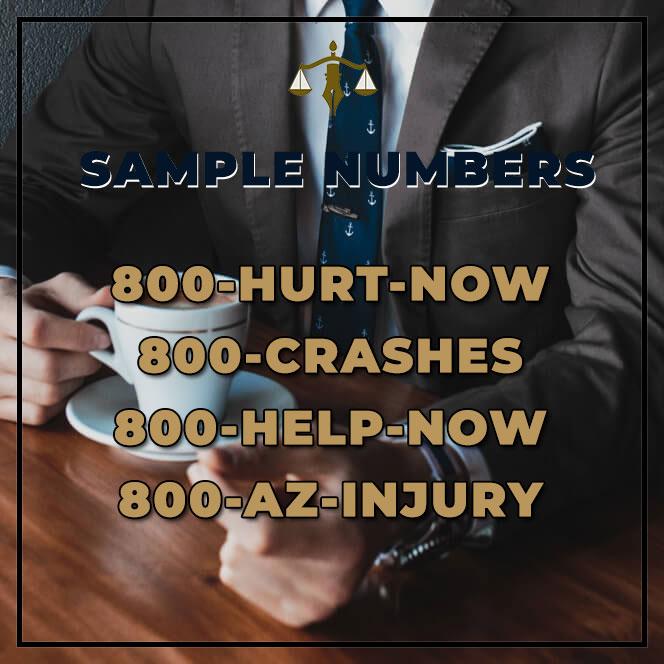 Easy Vanity Numbers
Personal Injury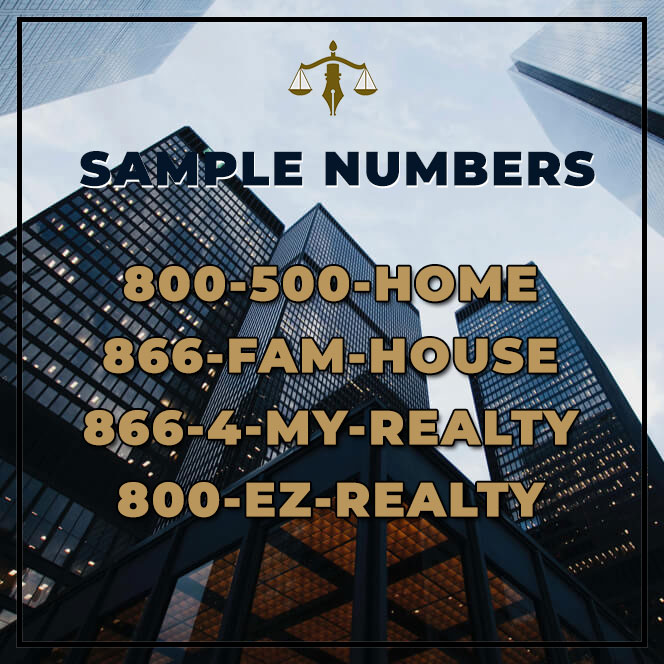 Easy Vanity Numbers
Real Estate Law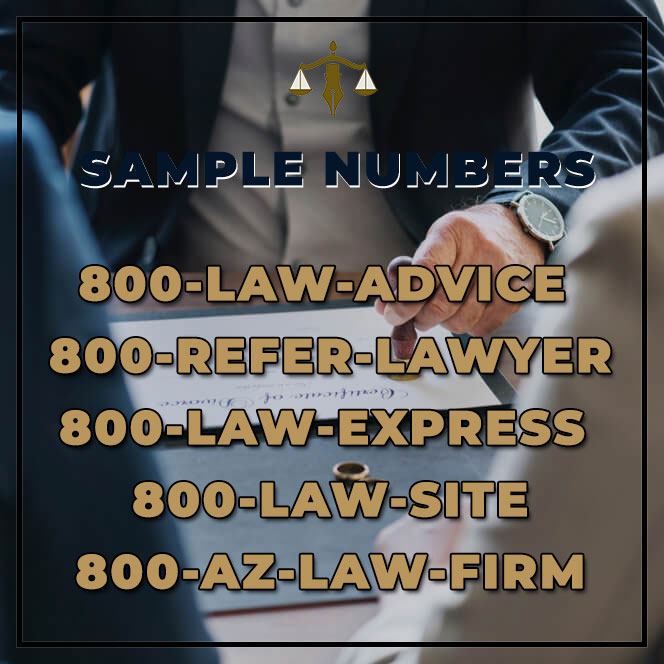 Easy Vanity Numbers
Administrative Law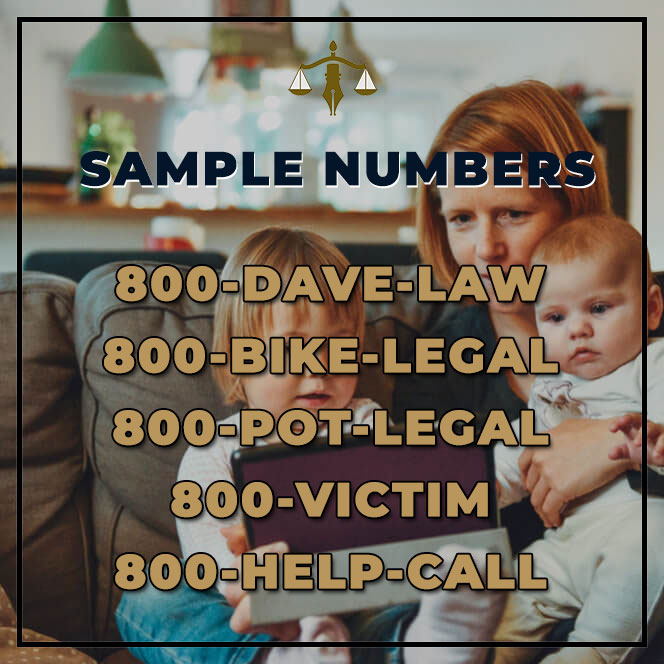 Easy Vanity Numbers
Family Law
Easy Vanity Numbers
Spanish Law
TOP 4 SUGGESTIONS TO GET YOUR NUMBER ASAP
---
1. Contact us via phone at 1-800-207-2000 for immediate personal assistance 7 days a week. We can help you decide between a Vanity number – an easy to remember 800 Number or even a Very Easy Local Number that you can move right into your system via your local carrier or ask about our low minute rates and optional PBX. 2. Fill out our confidential request form with any KEYWORDS such as HELP – HURT – INJURY – LEGAL – CRASH or EASY NUMBER. In the notes you can ask for ideas for an easy 800 number or indicate any area code that you would like to see local numbers for. Our local numbers are easy numerical numbers or Local Vanity Numbers with words. Again all information is confidential. 3. We can connect most 800 numbers up within a day or give you transfer proofs for your carrier. At your option, we can ring right to your main office line – cell phone or call center. You can even go online and change ring to numbers. 4. PBX SYSTEMS ARE AVAILABLE WITH UNLIMITED MINUTESand multiple extensions and follow me service. Call for our low rates or we can give you proofs to move your number to any carrier.
---
PLEASE: Give us a way to contact and help you. Both a phone number and email are best.
We Hate Spam Too! We will NEVER rent, sell, or give away your email address to anyone for any reason.
WORKS WITH PHONE CARRIERS INCLUDING




Sample Lawyer Marketing Numbers
---
SMART-LAW 411-HURT PAINT-HURT LAWSUIT US-LAW-HELP ACCUSED 2-DEFEND WE-DEFEND 4-LAW-HELP
THE-LAWYER IMMIGRATE HURT-411 MY-DISABILITY MY-INJURY WE-SETTLE 2-SETTLE LAW-ADVICE CRASHES
1-800-BANKRUPT 1-800-DISABILITY 1-800-AR-LEGAL 1-800-CALL-BOB 1-800-ASK-DAVE 1-800-TEL-MARK 1-800-IM-LAW-ESQ 1-800-WIN-LAWYER 1-800-IN-PROBATE
1-800-888-LEGAL 1-800-900-LEGAL 1-800-MAKE LAWS 1-800-68-WIN-LAW 1-800-888-2121 1-800-835-SENIOR 1-800-95-TAX-LAW 1-888-DEBT-LAW 1-888-80-JUSTICE
LOCAL LAWYER & LAW-TEAM NUMBER
---
225-LAWYERS LA 804-LAWYERS VA 832-LAWYERS TX 830-LAWYERS TX 857-LAWYERS MA 352-LAWYERS FL 779-LAWYERS IL
508-LAWYERS MA 657-LAWYERS CA 843-LAWYERS SC 929-LAWYERS NYC 747-LAWYERS CA 754-LAWYERS FL 585-LAWYERS NY
567-LAW-TEAM OH 651-LAW-TEAM MN 689-LAW-TEAM FL 779-LAW-TEAM IL 804-LAW-TEAM VA 857-LAW-TEAM MA 973-LAW-TEAM NJ
800-228-4444 800-222-2220 800-486-2222 800-718-7777 800-780-8888
800-567-4444 800-516-LAWYER 800-718-7777 800-838-5000 800-958-1000
888-500-9000 800-616-1111 800-793-0000 800-958-9000 800-894-2000
ABOGADO & Spanish Numbers
---
888-94-ACCIDENTE 800-MR-ABOGADO 800-811-ABOGADO 800-33-ABOGADO 877-DUI-ABOGADO 800-54-ABOGADO 800-LI-ABOGADO 855-IMMIGRATION 844-LESIONADO 833-LASTIMO
800-544-VICTIMA 800-68-LA-LEY 877-LA-LEY-411 855-VISA-AYUDA 855-4-LA-LEY-CA 855-411-AYUDA 800-875-AYUDA 800-696-VISA 800-OR-ABOGADO 877-ID-ABOGADO
855-IL-ABOGADO 866-KS-ABOGADO 844-KY-ABOGADO 877-ME-ABOGADO 855-MA-ABOGADO 855-NJ-ABOGADO 855-NC-ABOGADO 855-SC-ABOGADO 855-PA-ABOGADO 833-TN-ABOGADO